soulsync wrote:
Khoo wrote:
soulsync wrote:
wow ~ nice reviews from bro khoo and zelu
khoo, i noticed the handle of the bike was detached when is still in plastic casing ... is it broken or juz came off from the peg hole ?
Haa ... you noticed it. Very observant of you.
It was broken. You can actually see the white part on Nyx's head ... near her ear. But I was a clean break possibly due to shipping and I glued it back. You can see when I pose Nyx individually that the handle was reattached. I made a note on the parts of the bike being fragile.
Hahaha juz happen to see the handle dangling there but puzzled when is back to normal on later pics :) sorry to hear that bro. Didn't know the parts are that fragile and hope mine will be okay once out from box. The rest like paint work and stuff looks good on your piece
Thank God it was a clean break and the super glue worked wonders. I did not noticed it until after I took the photo.
The other part you need to worry about is Nyx's hips. Need to carefully open joints connecting the hips so that she can transform back into bike form. I circle the part as below.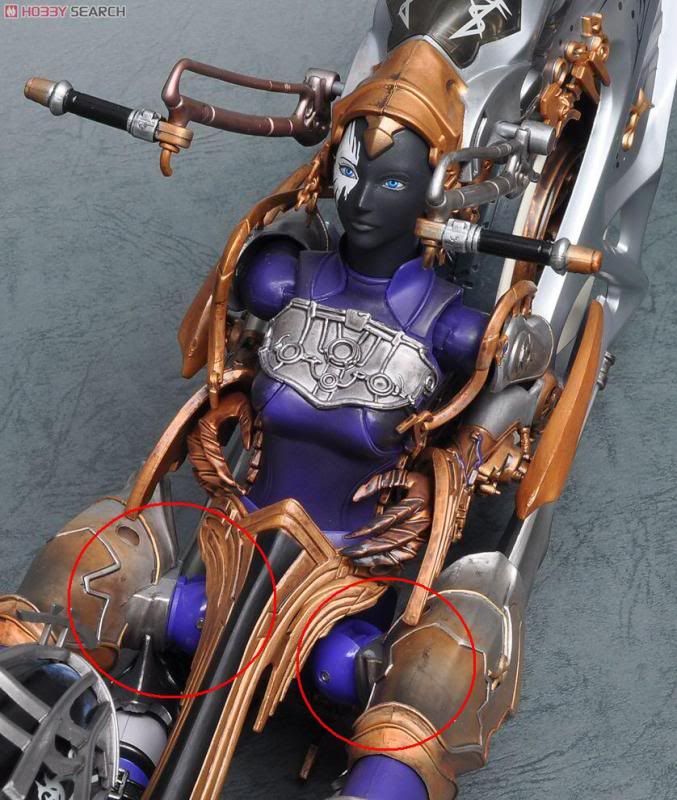 This part is extremely fragile, once broken, you practically cannot transform into bike form. Perhaps I should add pointer in my blog. There is an instruction sheet attached to the box that highlights this joint being extremely fragile.
@ bro forlan I hope you read my post here when you open your Shiva motorbike for inspection. Check the handle and in case you want to play around with it, take note.