This is my review on the FF trading arts mini volume 4.
Overall, I find that the quality of this set is the same as previous releases. It's just a matter of additional characters from different series. Take note that this set presents the anime version of the FF series, so the designs and sculpture of each figures are different. So do not expect too much out of the trading arts mini series. It's a cute set to add to your FF collection.
Maybe because they are "mini" trading arts, the element of cuteness seems to project critical views on quality in terms of colour and sculpture.
Assembly
The mini figures are very easy to assemble. Almost the same as those snap fit figures. Pretty straight forward considering the size of the figures about 4 inches each.
Sculpture
The sculpture of the mini figures is just simple as it is. It is reflective of anime-ish sculpturing to make the mini figures look cute. However, some of the figures facial expression does not reflect a sense of "cuteness" i.e., Zidane, Sephiroth,... well he looks kinda emo in a sense. Vivi looks like he's intimidated by something
Colour and details
THe colour and details of this set of figures are just "amateurish". Don't expect to see spot on details for each figure with interesting colours but expect to see the "usual" colour and details for each figure.
Front view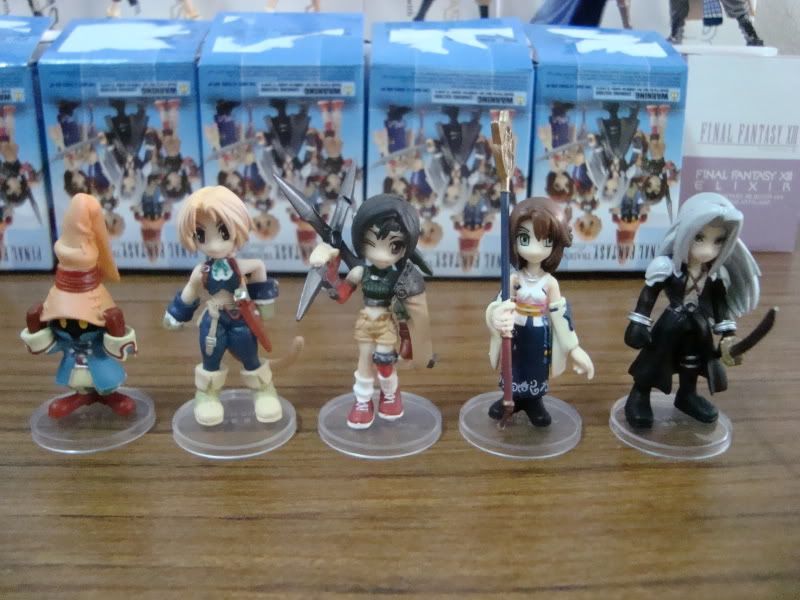 Back view
Side view